Our kids program at NCMMA concentrates on each student's development as a martial artist and more importantly, as a person. Martial arts classes build a strong base of basic skills through the use of defense & technical drills, strengthening exercises, and competitive games. Building off these skills creates a lasting sense of accomplishment and increased self-confidence. The classes themselves are designed to challenge each student individually. Our instructors will encourage your child to push themselves, redefining what they thought their limits and capabilities were. Students are continuously surprised that their bodies and minds go further than ever expected. The ability to use their mind and body to the fullest will carry through your child's life, as previously impossible challenges now appear as opportunities.
The physical and character foundations built at NCMMA have helped children excel in their academic, sports, familial, and social endeavors.
We have yet to meet a child who cannot benefit from our kids program. Whether your child is shy, has learning or behavioral challenges, has boundless energy, or isn't challenged enough in physical or mental pursuits– we enable every child to excel. Our dedicated staff of instructors encourage them to stay on a path of health and fitness for a lifetime. Our students work hard and feel proud of what they accomplish– often they are capable of much more than they could have dreamed.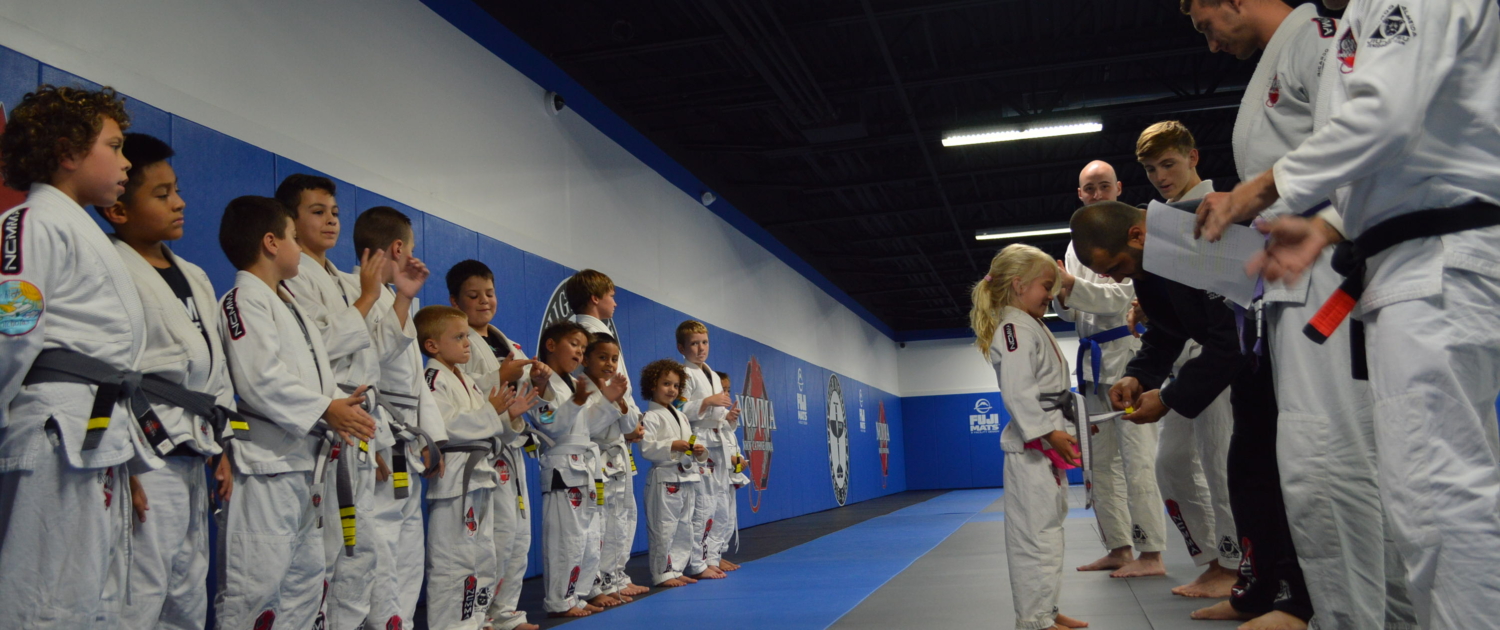 Kids Jiu-Jitsu (Primary Class)
NCMMA's kids Jiu-Jitsu program is a challenging and fun class for children ages 4-13 that teaches children key concepts and techniques for de-escalating a situation and self-defense. Children learn through age-specific drills, games, and scenario training. Your child will receive stripes and new belts as they grow and learn. The instructor's emphasis is squarely based on students being able to protect themselves as opposed to achieving belts or ranks. Jiu-Jitsu shows children how to use balance and leverage to their advantage so they are able to protect themselves regardless of size, while also helping kids to understand that the best self-defense is the ability to diffuse a situation and walk away. Our progressing system of belts and stripes allows your child to have tangible evidence of their accomplishments, and will encourage them to stay on a path of health and fitness for a lifetime.
Extra Classes Included with Jiu Jitsu ……
Kids Kickboxing
We incorporate a kickboxing class two times a week, where children can learn the basics of striking. Our friendly intructors utilize different tools such as, punch mitts, noodles, heavy bags, and thai pads, to teach punches and kicks in new interesting ways to keep the kids engaged. They learn how to safely throw these strikes, while giving them a fun and constructive way to get out extra energy.
Kids Wrestling
Youth wrestling is a great base for all martial arts. This class is a fun supplement to our program and a good introduction into wrestling. It includes takedowns, strength exercises,  and drills to give your child the foundation for success in wrestling.
Kids Judo
We've added a fun class to keep it interesting! Judo is a grappling class based on submissions with an emphasis on balance, lifts, sweeps, and throws. Judo is a great compliment to techniques learned in jiu-jitsu.