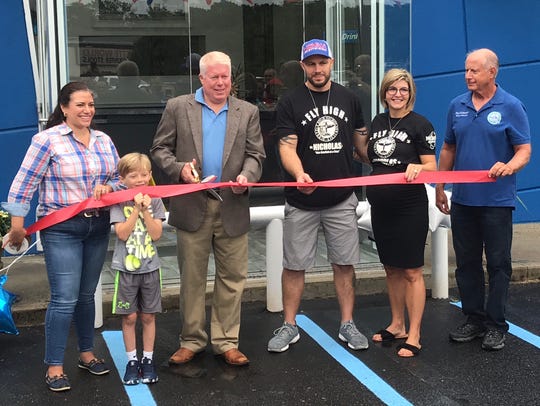 In the months of late nights that Nick Catone spent jackhammering floors and carrying concrete in preparation of his newest gym, there were times the former Brick Memorial standout wrestler and UFC fighter would break down.
The training facility that the Catone family built in Brick is impressive. The tribute that they created for their late son is remarkable.
The root of the emotional moments was the loss of his son Nicholas, who died unexpectedly at home on May 12, 2017. He was 20 months old.
"I would get back up, climb the ladder and start working again," Catone told the Asbury Park Press on Saturday. "I know he wouldn't want me to quit."
Like so many times in his wrestling and mixed martial arts career, Catone did not quit and on Saturday, he and his wife Marjorie were able to open the Nicholas Scott Catone Training Center — the new home of Nick Catone MMA at 781 Brick Blvd. — on what would have been Nicholas' third birthday.
Prior to the grand opening ribbon cutting with Brick Mayor John G. Ducey and after a stirring rendition of the national anthem from Brick resident Ron Brooks, the crowd of several hundred friends, family and fans joined in the singing of "Happy Birthday" for Nicholas. Watch a video of the ribbon cutting ceremony at the top of this page.
"I know he's looking down — smiling, I hope," Catone said.
The celebration also featured numerous seminars from UFC fighters such as Frankie Edgar, Marlon Moraes and Corey Anderson, catering from Eat Clean Bro and giveaways from Edgar's Iron Army sports nutrition line.
And the public was able to get a glimpse of the sprawling new facility. At more than 31,000 square feet, the new gym has room for two Octagons and a boxing ring, with wrestling mats spanning the length of one wing of the complex.
"Over the years, I've opened a couple smaller gyms and there were always things that I said I wish I had," Catone said. "When I went to design this gym, I put it all together. For me, I never had a facility like this to train in. It's going to raise the game for everybody to be able to train in a facility like this."
But it's not just good news for the fighters that were regulars at Catone's old Route 88 location. This new facility is meant to serve non-fighters as well with a wing devoted to cardio equipment, weights and a 2,000-foot cardio kickboxing room.
"My classes and programs are all based on fitness," Catone said. "We already have fathers and sons taking boxing classes together. Now we have a full gym where if parents sign up their kids for one of our kids programs, we give the parents a gym membership so they can do cardio and all the weight training."
Mayor Ducey indicated the new facility would be a great addition to the Brick community.
"We've all driven past here," he said. "It was an abandoned place, it was a sad place. Now it's a great place. It's a place to be proud of. As mayor of Brick Township, we are very proud of this site."
Of course, the facility is not just a gym. It's a monument to the Catone family's enduring love for their late son.
The plane in the reception area represents one of Nicholas' favorite things. A plane also is incorporated into his memorial logo, which appears on walls and the sign visible on Brick Boulevard. Catone frequently uses the hashtag #FlyHighNicholas on social media.
Nicholas' photograph hangs on the wall overlooking the Octagons. And of course his name shines prominently on the front of the building, noting that it is not just "Nick Catone MMA," but the "Nicholas Scott Catone Training Center."
"It's all I can do," Catone said. "Keep fighting and keep his legacy going. Fortunately, I can keep his memory alive."
Source:  APP.COM
https://www.nickcatonefitness.com/wp-content/uploads/2018/02/Nick-Cattone-Opending-Day-1.jpg
406
540
ncatone
https://www.nickcatonefitness.com/wp-content/uploads/2019/12/logo-680x312-1-300x138.png
ncatone
2018-02-07 18:56:26
2018-02-07 18:56:26
Nick Catone opens impressive new Brick gym to honor late son Nicholas